This page and the next two reproduce a section of an old Ohio Tool Company Catalogue listing wooden planes. The planes here are fairly typical of the planes made by a number of makers, though in earlier times a wider variety would have been available than are listed in this catalogue dating from early in the twentieth century. The pages are handy both as a reference to Ohio Tool Company offerings and prices, but also for learning the names for various common profiles.
The Ohio Tool Company was relatively large manufacturer of both wooden and cast iron planes, as well as other tools, doing business in the 19th and early 20th Century. While not as good at employing or buying up innovators, they manufactured many of the same sorts of planes as Stanley did. In addition and unlike Stanley, they manufactured many wooden bodied planes, including moulding planes, sash planes and plow planes. They were founded in Columbus Ohio in 1851 by Peter Hayden, of P. Hayden & Co. which had been doing business since 1842, and various associates. The company continued P. Hayden & Company's tradition of often using prison labor for the production of tools. By 1880 the use of prison labor had ceased, and in 1893 the company merged with the Auburn Tool Company of New York, themselves a frequent employer of prison labor. In 1913 the Ohio factory was destroyed by a flood. A new factory was opened in Charleston, WV the following year. The company ceased business in 1920.*
In the images displayed here are from an old catalogue, #23A that I found in a used bookstore. Since the catalogue bears no copyright date, I can't say exactly when it was produced. But since the information lists the Columbus and Auburn plants, I venture to guess it was produced a short time before 1913. Since the images can load slowly I have broken the relevant sections up onto three linked web pages.
Misc. wooden planes.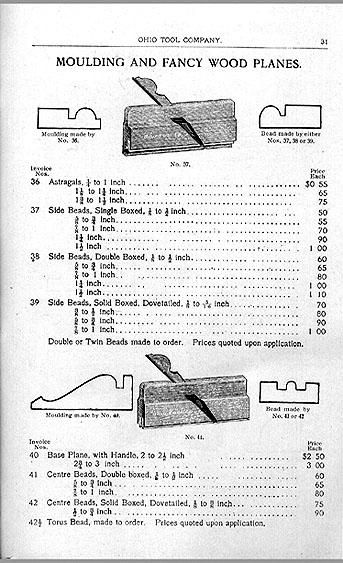 Some moulding planes.
Some more moulding planes.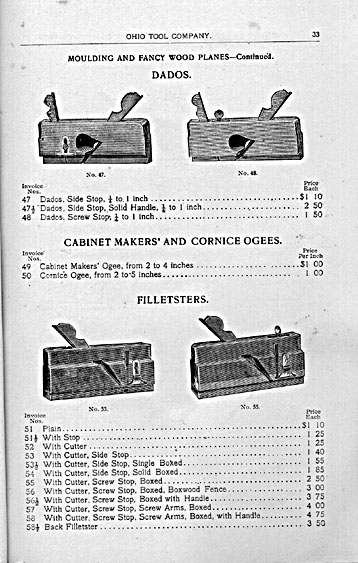 Dado planes.
Click Here For The Next Several Ohio Catalogue Pages Listing Wooden Planes.
* Historical information comes from Emil and Martyl Pollak A Guide to the Makers of American Wooden Planes, 3rd edition (Astragal Press, 1984).
The images on this page and those that follow are reproduced for non-profit educational use only. Any trademarks remain property of the owners and are protected by law.